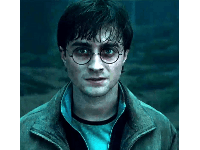 Wacky Product of the Week: Harry Potter Moving Photographs
It's no secret that I'm a huge Harry Potter fan. Some might say I'm "mental" about the series. Books, movies, collectibles, memorabilia, Wizard wear--I can't seem to get enough! Sitting in front of me, I've got the Deathly Hallows symbol on a chain, two wands, a Pygmy Puff named Mortimer,
The Tales of Beedle the Bard
, a copy of the Quibbler, a Marauder's Map...need I go on? (
I won't even get started on the fact that I have a cloak and uniform upstairs
)
After waiting in line all day yesterday for the midnight showing, I am not even close to Harry Pottered out. So today, I am sharing a cool Harry Potter tech idea that's in the works at the moment and within reach for us Muggles to get our hands on too: moving photographs.
In the Harry Potter series, moving portraits are awesome. If you visit the Wizarding World of Harry Potter in Orlando, Florida, you can see some video-screen replicas that are pretty neat. But what if you could have your own moving photographs in a hand-held size, say, like birthday cards to grandma?
Well,
Pragmatic Printing
is actually partnering a greeting card company at the moment to create just that sort of thing! Imagine, instead of bulky 'animated' cards with huge mechanics in them, having instead a paper-thin screen with full animation on it. Yep, that's their plan. In the image shown here, those little fireworks will actually be moving and three-dimensional! Or imagine in place of that, having a photograph of you waving and singing Happy Birthday to your mom.
Ah, Harry Potter. Now if only someone could actually invent a magic wand that does more than turn on my television or light a candle.
What Harry Potter magical gadgets would you want to see created?