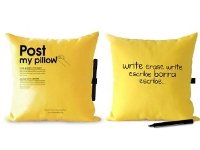 Wacky Product of the Week: Pillow Post-It Notes
Welcome back to another fine edition of the Wacky Product of the Week. This week's intrepid dive into the depths of silliness and random oddness brings sees me surface with Post It Note pillows in tow. Yes, you read that correctly, now you too can own a set of comfy message ready pillows to either rest your weary brow or get your point across in large black and yellow glory.
The
dry-erase Post My Pillow
is perfect for those of us who can't seem to fit even the simplest of messages on one lone, regular-sized post-it. You know who you are. It also has the added bonus of being an actual golly-to-goodness...
PILLOW!
Yeah, awesome! Anyway, this will only run you $24, which is more than the average cost of say one pack of regular post-its, but looks way cooler. So grab a pillow or two and have the world's first speed writing pillow fight. Getting hit in the face by a pillow is one thing. Getting hit in the face by a bright canary yellow pillow with the words "You Are Fail" written on them is just ridiculous. But in a good way.
As always, follow my tweets on wacky products and the latest tech marvels via Twitter
@SavingsGCapes
.