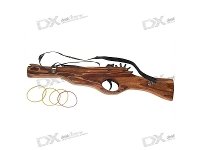 Wacky Product of the Week: Wooden Rifle Rubber Band Launcher
The call goes out across the crowded classroom...
"Rubber band fight!
"
Ahem, and so begins this week's foray into the wild world of the Wacky Product of the Week.
Over at
DealExtreme
, they are offering relief for tired old-school rubber band launchers everywhere (You know,
your fingers
...). The low-priced, $5.79, long-winded-named Classical Multi-Shot Rubber Band Launcher Wooden Rifle Gun is just crying out for us to add a new category called "Nonsense." Alas, until then, you can find this under "Toys."
This replica rifle rubber-band shooter takes all of the danger of back snap, that rare instance when inexperienced twenty-two, uh I mean six year-olds start a campaign of annoyance in the middle of Psych 101 class. I mean 3rd grade. Whatever.
Simple to use, you just buy a bunch of your favorite type of stretchy rubber projectiles, load one onto the shooter, pull the trigger, and watch the fun--or fists fly. I'm old school. It's easier to play like you didn't do it when you're just using your fingers. But if you're more into pinpoint accuracy and are not too concerned with things like detention or putting eyes out, then by all means go the low high-tech way and grab one of these cheap little rifle shooters.
As always, you can find all of my latest tweets on wacky gadgets and odd consumer doo-dads on Twitter
@SavingsGCapes
.