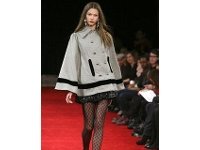 Wardrobe Oxygen: Fall Fashion Trends - The Return of the Cape
This fall is a great season to stock up on trends that are classic, and flattering to so many different body types. One trend I am adoring, and know will still look chic years from now is the return of the cape.
I know, many of you when you hear "cape" may think of Superman and Sherlock Holmes. However, this fall's cape is far more elegant, versatile and figure-flattering than a red satin or ankle-length number famous made famous by your favorite storybook hero. A cape is a great piece to wear during transitional weather--you can slip over a tee and jeans for a trip to the market, over a suit or dress with ease, or use it as a layering piece with a heavy sweater or fitted jacket for additional warmth come winter. Capes work on slight and curvy frames, petite and tall women, and will work even if you are between sizes (
or expecting!
).
Here are some of my favorite budget-friendly capes for this fall--styles that are kind to your figure, your lifestyle and your wallet.
Contrast Knit Cape
-
Forever 21
. This lightweight cape in charcoal and black is incredibly versatile. It would look chic with jeans and boots, and would be an amazing accessory with a business suit or date night dress. The classic colors of this cape work with denim and neutral hues as well as with the bright primary colors that are so hot this season. For only $29.80, the price can't be beat.
Fleece Cape
in a Dramatic Full Cut -
Spiegel
. You can't get any more classic of a silhouette than you find in this fleece cape from Spiegel. The gathered collar adds drama to any wardrobe, and I always love finding outerwear that is machine washable! I love this cape in camel – it will look amazing with simple denim, as well as brights like red, plum, and teal. On sale for $39.00.
BB Dakota The Calhoun Cape
-
Amazon
. I love this classic plaid--so chic, and so elegant. This is a piece that will be chic now, and years from now. The colors of this plaid are so neutral, it would work with most any color under the rainbow. This cape is available at many online retailers, but Amazon has the lowest price by far at $90.00.
California Fleece Cape
-
American Apparel
. This cape is a great price, and gets great reviews online. I love that it has a cape--it's a charming detail and will keep you extra warm in the winter. Fleece is water-repellant so this will keep you dry as well as warm when the weather is frightful. It comes in a variety of great colors, I am partial to Cranberry. $65.00.
ECI Belted Cape
-
Nordstrom
. I tell people time and time again, don't rule out a certain store because you think it only carries expensive clothing. Nordstrom carries many brands that are reasonably priced and better quality than big box discount retailers. This poncho from ECI is a great example. This cape is belted, which is a more flattering option for women with large busts and shoulders. Classic gray tweed with black trim means this cape will give you miles of wear, and miles of style. $88.00.
Alison Gary has over ten years experience as a personal shopper, stylist, and visual merchandiser. Her blog Wardrobe Oxygen provides fashion advice to all women, regardless of age, size, budget, or lifestyle. She is a full-time working mother, blogger, wife, and frugal fashionista located in the Washington D.C. area.