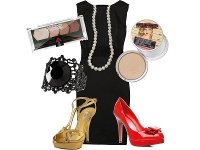 Wardrobe Oxygen: Go Glam with Holiday Fashion Trends 2011 for Less
It's the holiday season…and with that holiday parties and galas. While it's tempting to go out and buy a new sparkly dress for such events, you can easily get a hot holiday look without buying a new wardrobe.
Here are some ways to jazz up that simple Little Black Dress that is already residing in your closet. Look chic and stylish without spending an arm and a leg!
What do you think of these glam holiday looks? Are any of the suggestions something you'd incorporate into your party looks?
Alison Gary has over ten years experience as a personal shopper, stylist, and visual merchandiser. Her blog Wardrobe Oxygen provides fashion advice to all women, regardless of age, size, budget, or lifestyle. She is a full-time working mother, blogger, wife, and frugal fashionista located in the Washington D.C. area.