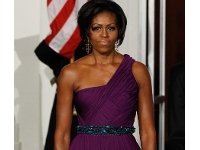 Wardrobe Oxygen: Michelle Obama Fashion Inspiration Goes Beyond Basic Black
I have often written on my blog about wardrobe staples and I feel that every woman should have a simple black dress in her wardrobe. Owning such a dress means you're ready for a wedding, a funeral, a date or a cocktail party.
However, sometimes it's nice to go beyond basic black. And one of those times is the holidays. Right around the corner is the season for eggnog, mistletoe and wining and dining with friends. While you could use a simple LBD to ring the season in with style, choosing color can add a festive touch to your ensemble while also making you stand out in a crowd.
Take a cue from Michelle Obama, who at the South Korea state dinner stood out in a sea of black in her ultraviolet one-shouldered gown from designer Doo-Ri Chung. Her choice of a must-notice color allowed her not to have to rely on sparkly jewelry, a fancy updo or unique makeup. The dress was elegant yet relatively simple, letting the color steal the show.
Choosing a color for your holiday party ensemble means you will be more likely to find a dress at a price that is wallet-friendly. Like Michelle Obama, you can let the color steal the show and worry less about labels or unique silhouettes.
Here are some great colorful cocktail dresses that are also at great prices:
What are some ways you incorporate color into your evening looks? Share your style tips in the comments!
Alison Gary has over ten years experience as a personal shopper, stylist, and visual merchandiser. Her blog Wardrobe Oxygen provides fashion advice to all women, regardless of age, size, budget, or lifestyle. She is a full-time working mother, blogger, wife, and frugal fashionista located in the Washington D.C. area.