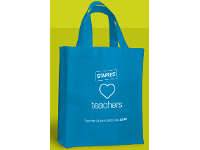 Back to School Freebies: Free Haircuts at JCPenney, Staples Teacher's Gift Bags, Quart of Paint from Ace Hardware & Lots More
Here's a few back to school freebies, including one for teachers! If your a teacher Staples is giving out free gift bags with bonus coupons to the first 100 teachers at each store. Check the link for the date in your area for Staples Teacher Appreciation Day. I've posted this next freebie before but I want to remind everyone about it. For the entire month of August, JCPenney's is offering free haircuts to all kids K - 6th grade. Appointments are recommended. The free haircuts are available at all JCP Salons in the USA.
Another one that can be used for back to school is all Sam's Clubs are opening their doors to everyone this weekend. From August 3rd to August 5th you can shop in the store or online without a membership card. It would be worth checking out for school supplies. They also have a list of tax free shopping days on their page so you can save even more money. Check the list to see if your state is listed. If you need some recipe ideas for packing those school lunches you can download the 'A-B-C's of Back to School - 26 Kid Friendly Recipes' ecookbook. Recipes include; Beefy Taco Bake, Buttermilk Chicken Nuggets, Dirty Cups, Itsy Bitsy Pizza Bagels and more.
Each week this month Swiffer is giving out 12,500 Swiffer WetJet Extra Power Pads. You get two, one for you and one for a friend. The offer for this week is over, but 'like' their Facebook page so you can get updates for when next weeks offer will go live. Don't forget about Downy's Unstopables freebie. The offer goes live at 11am EST each day until October 24th. The offer is limited to one per household. Click on the second bubble (top right, below "find us on Facebook") and click "Get A Sample" button. Do you need some paint to do some touch ups around the house? You can grab a free quart of paint Saturday, August 4th at Ace Hardware, visit their Facebook page and click the "Free Paint" button at the top right of the page.
If you live near a Quick Chek stop in and grab a free Poland Spring Sparkling Water with the printable coupon from their Facebook page. The coupon is valid at Quick Chek only and expires 8/6/12. You can get two Nestle Mementos Stick Pack samples by filling in the form. The flavors they're giving out are mocha and caramel latte....yum.
There are a few building activites for kids this month, all classes and supplies are free for kids. There's the free LEGO Shark Build inside LEGO stores on August 7th at 5pm. This class is for children 6 - 14 years old. Lowes has Build and Grow Clinic August 11th and 12th. The kids will be making Shrek's Dragon Ride for this class. Registering online is required for the Lowes clinics.
Tom's of Maine has free samples of their deodorant available on their Facebook page. You have to 'share' your passion on your Facebook page for the form to show up. Then you have to answer five questions about your opinion of Tom's. Your answers don't determine if you get the freebie, click on the 'Start Now' button to begin. Friday, August 3rd at 1pm EST Aquaphor will be giving 1,000 tubes of it's Lip Repair. 'Like' them on Facebook to be able to fill in the form.
Jackie lives in Seattle, her blog is Free Hot Samples. Where there are hundreds of freebies and deals up for grabs,