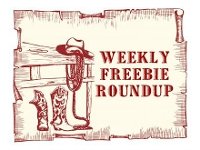 Freebie Round-Up: 5/25
Summer starts this weekend - finally! I'm in Seattle and the sunshine is slowly starting to come out on a regular basis here. No more gray skies! Before you log off of your computer and start enjoying the great outdoors grab your free stuff. There are even freebies our military families this week.
You can get yourself (or someone else) a
free salon
treatment from Tyson when you purchase Tyson Chicken Strips through June 30, 2012. Go the 'redeem' tab to print your form, you will need your UPC code(s) to access the form. Then mail all required information in. You should receive a voucher for your free Salon Treatment with 4-6 weeks. Garnier has free samples of it's products available. The offer changes every Thursday, right now you can get Garnier's
Sleek and Shine
shampoo & conditioner sample.
Valu Home Centers is offer a
free disposable grill
with any purchase. Get 2 grills and make it a BOGO for under $5! Print the coupon and redeem in stores, coupon expires 5/28/12. If you have a grill already but need to clean it up, Valu Home Center has a
free grill brush
too! No purchase required for this one just print the coupon and redeem in stores (expires 6/2/12).
Location finder
for Valu Home Centers.
Kids would love to go to Lowe's Build & Grow Clinics. The supplies and the clinic are free, but registering online is required. Upcoming dates and scheduled crafts are: Saturday May 26 - Ice Cream Truck, Saturday June 9 - Monkey Powered Plane, Sunday June 10 - Monkey Powered Plane. Check their site for more info and Clinic times and even more clinics. You can get a free child safety kit by filling in the form. The link takes you to the preview of what the kit contains, then click the 'request a free kit' red button at bottom of their page.
One of my favorite freebie offers this week is Rudi's Organic Bakery's sandwich box offer. Upload artwork from you or your little Picasso and receive a free custom sandwich box featuring it. The artwork will also be entered in our Rudi's Sandwich Box Contest Gallery.

Did you know National Donut Day is June 1st? In honor of the occasion, there are three free donut offers! Get to the closest Dunkin Donuts, Krispy Kreme or LaMar's near you on the June 1st to get yours.

The rest of the freebies are for military only! I posted the first offer last week but will post it again because it started on May 19th. Active duty military or personnel with a permanent disability can receive a free National Park Annual Pass (ARV $80) for themselves and their dependents. An annual pass will be made available to members of the military free of charge. Military personnel can get the passes at any National Park or Wildlife Refuge that charges an entrance fee by showing their military ID. Each family member will also be able to obtain their own pass even if the service member is deployed or if they are traveling separately.

Blue Star Museums across America will offer free admission to all active duty military personnel and their families from Memorial Day, May 28, through Labor Day, September 3, 2012. Check out the FAQ's for more details. There is also a free Huggies Diaper Event for Military Families June 7th from 9am-1PM at Alphapointe Base Supply Center in Leonard Wood, MO. They are offering free diapers in sizes 3, 4, and 5. (Three free boxes per active duty military family with Military or Spouse ID card.) They are also planning on adding more dates and locations, and I'll post them as I find them! Tanger's Outlets is offering a free $10 gift card to military personnel and their families along with a money saving coupons.

Have a Happy & Safe Memorial Weekend!


Jackie lives in Seattle, her blog is Free Hot Samples. Where there are hundreds of freebies and deals up for grabs.