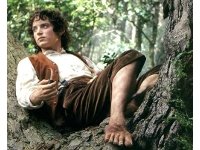 What Shoes Would Frodo Buy from Zappos?
Frodo is a hobbit. Hobbits are very short human-like creatures. They dress simply but do not wear shoes. Sure, hobbits have leathery soles but they also have curly-haired feet...ew! Barefooted is the way of life for a hobbit. However, Frodo likes to go on adventures. Maybe he will wander away from middle-earth to visit this world. Then he must wear shoes to get around.
What type of shoes would Frodo buy at
Zappos
?





What shoes do you think Frodo would buy at Zappos?
Charli "Chuck" Gulley is a screenwriter, filmmaker and freelance writer who lives in Southern California. Quite the tomboy, she enjoys Rugby, Fencing and touch football. She's an alumnus of the prestigious screenwriter's workshop, "Writers Bootcamp." Her passion is Hollywood, anything and everything to do with filmmaking. If you don't find her on set, you can find her at the arcade playing air hockey and eating pizza.