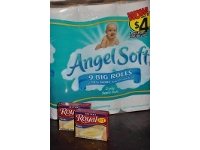 What are fillers at CVS and Walgreens?
When we talk about "fillers" what does that mean? Well, at both CVS and Walgreens there are times when your purchase calls for a filler. Interestingly enough it is for different reasons at both stores.
CVS
- When you shop at CVS and use Extra Care Bucks (ECBs) they are just like gift cards, you don't get any money back from them. So let's say I have a $5 ECB and my purchase total is $4.50, CVS will NOT be giving me any change back. So if I don't want to 'lose' that .50 cents I can throw in an inexpensive 'filler' item to get my total closer to $5.I also have used filler items when I am using a CVS $/$$ coupon, like a $5 off a $25 purchase. Let's say my total was $24.20 and I wanted to use that $5 off a $25 purchase I would have to toss in $.80 worth of 'fillers' to get my total high enough to use the $5 off coupon. I always try and toss in something that I need, I like the soap bars, or tissue as fillers because 1. I need them and 2. I won't eat it, it's not junk! Below are a list of fillers you can find at CVS.
CVS Fillers
Purse size tissue packs
CVS Gold Emblem pretzels .50
Caramels by the register .33
CVS brand cough drops 2/99 cents
Dove soap bar .50
Gum
Candy on sale
CVS brand paper towels .99
Picture at the photo lab .29
Now, at
Walgreens
I use 'fillers' for a totally different reason. The transaction I did earlier today and that is posted below you can see where I used the pudding as 'fillers.' At Walgreens they have Register Rewards that you get for buying certain products. Couponers like myself like to "roll" them onto other purchases. At Walgreens these Register Rewards (RR) are treated just like manufacturer coupons, so when you check out you can only have the
same number of items as you have coupons.
So for example, today I bought 5 packages of toilet paper, I had 5 coupons, but I wanted to use 2 RR that I had to pay for the remainder of the balance on the TP after my coupons. That means they were going to scan 7 coupons total (5 tp coupons and 2 RR coupons) but I only had 5 packages of TP, so I needed to toss in 2 more 'fillers' so I could use those last 2 RR to pay for part of it. That's why I got the 2 packages of pudding, they were cheap and I needed them anyway and it let me use the $3 and $4 RR. Remember, you have to have the
same number of coupons as items scanned
at Walgreens.**
Unless of course you are using Walgreens store coupons, they do not count when adding up the number of coupons you can use. See why I think Walgreens is confusing? Don't worry though, we can figure it out!
Walgreens Fillers
Photo lab picture .09
pencils .09
clearance pens .19- .29
Jello or pudding .20 - .39
Travel pack tissues .29
Post cards ( up front by register ) .25
Walgreens 4.5oz soap .39
My sister had a great idea when we were at Walgreen's the other night. She always has her camera with her in her purse and we need some fillers. She can pop the memory card out and run over and make a few quick pictures at $.09 each. Great filler! Any questions feel free to email me and I can try and help you! Mylitter@mac.com