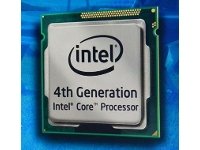 What is this Intel Haswell thing, and should you pay extra for it?
In the old days, you could tell how fast a computer's processor was by a few simple designations. Pentium 4? Faster than Pentium III. A 500MHz clock speed? Faster than 300MHz.
These days, however, processor lingo can be a lot more confusing. Yes, Intel's current line consists of fairly simple numerical branding--Core i3, i5, and i7--but within those categories you'll hear terms like Ivy Bridge, Sandy Bridge, and, most recently, Haswell.
What the heck do all those words mean, and if you're in the market for a new laptop, do they matter?
Just like Intel's Pentium line before it, the Core series has evolved over the years, with each new generation bringing various changes and improvements. Haswell is the codename for the fourth generation of Core processors, and products (namely laptops) equipped with Haswell processors began shipping just a few months ago.
However, you won't typically see the word "Haswell" when you go laptop shopping at, say, Best Buy. What you'll see is "4th gen Core processor"--and probably an extra-high price tag alongside it.
Is it worth paying a premium? It depends on what you're looking for in a laptop. The big deal about Haswell is battery life: According to Intel, if a manufacturer wants to apply the "Ultrabook" designation to a laptop, it must deliver at least nine hours battery life when idle, six hours when playing HD video, and seven days in standby. Those are pretty big increases over the previous-generation (Ivy Bridge) processors, which were rated for five hours of normal usage.
Haswell makes the gains possible thanks to ultra-sophisticated power management. Bottom line for users: If you want the longest battery life you can get in a laptop, make sure it has Haswell.
Other perks of the chip include faster graphics performance and lower operating temperature. The latter should allow for fewer and/or smaller cooling fans, which in turn enables manufacturers to produce even thinner and lighter machines.
Haswell chips will also appear in future tablets and convertible laptops, those with removable or full-turn keyboards. And the same benefits will apply: longer battery life, better graphics, etc.
The problem right now is that because this is Intel's latest and greatest chip, it's selling at a premium--though prices are starting to creep down. Best Buy, for example, now offers the
Toshiba Satellite P55-A5312
, a 15.6-inch laptop with a 4th-gen Core i5, for $599.99. It's not an Ultrabook, but it should afford all the benefits Haswell has to offer.
The good news is that if you can wait a few months, prices should drop even further, and we should start to see some deals on refurbished Haswell-equipped systems.
Veteran technology writer Rick Broida is the author of numerous books, blogs, and features. He lends his money-saving expertise to CNET and Savings.com, and also writes for PC World and
Wired.
(Source:
Savings.com
)