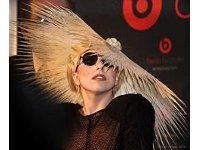 Which Vogue Wigs Would Work for Lady Gaga's Hair?
Lady Gaga photo by Domain Barnyard via Flickr
The world is gaga over Lady Gaga. Her outfits so outrageous during an award show that the costume itself deserves an award. You can catch a small glimpse of her face through the crazy mix of carnival masks she wears. And her hair, it's so um…wait, has anyone seen her real hair? She wears wigs, lots of them.
Help her out, which wig do you think would look best on Lady Gaga from Vogue Wigs?
Wig images courtesy of Vogue Wigs
Which wig do you think would look best on Lady Gaga?
Charli "Chuck" Gulley is a screenwriter, filmmaker and freelance writer who lives in Southern California. Quite the tomboy, she enjoys Rugby, Fencing and touch football. She's an alumnus of the prestigious screenwriter's workshop, "Writers Bootcamp." Her passion is Hollywood, anything and everything to do with filmmaking. If you don't find her on set, you can find her at the arcade playing air hockey and eating pizza.