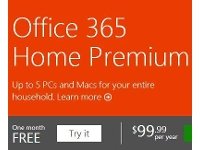 Why the new Microsoft Office 365 Home Edition might be a good deal
I've made no secret of my disdain for Microsoft Office, not because I dislike the suite, but
because of the way it's priced
.
Google Docs: free. OpenOffice: free. Kingsoft Office Suite Free 2012: free. Microsoft Office 2010 Home and Business: $199.99.
I expected business as usual when
Microsoft today unveiled Office 365 Home Premium
, so imagine my shock to discover an entirely different--and, some would argue, more reasonable--pricing scheme.
It works like this: Instead of buying Office outright, you "subscribe" to it for $10 per month or $99 per year. That's obviously more expensive than buying Home and Student 2013 outright for $139 (which you can still do) or Home and Business 2013 for $199, but consider this: Those prices buy you just one license. Office 365 Home Premium can run on up to
five
PCs, Macs, and/or Windows tablets.
Assuming you're looking to outfit everyone in the family, that's a much lower cost per user, at least initially. Also, qualifying students (those attending college) can get
a four-year subscription for just $79.99
, which works out to $20 per year--one of the best deals on Office I've ever seen.
Another perk: Office 365 Home Premium comes with a wider range of Microsoft programs. In addition to usual-suspects Word, Excel, and PowerPoint, you get Access, OneNote, Outlook, and Publisher.
You also get an extra 20GB of cloud storage courtesy of Microsoft SkyDrive (Office 365 can automatically sync your documents there, a great feature), as well as 60 minutes per month of free Skype calls anywhere in the world.
I can't say I'm a big fan of the dull new "flat" interface Microsoft has applied across the suite, but I haven't really tested it enough to render a verdict one way or the other. Early reviews from
CNET
and
PC Magazine
speak very highly of Office 365, with the latter awarding it an Editors' Choice.
If nothing else, you can test-drive the suite yourself for 30 days, no strings attached. Assuming the multi-user pricing works in your favor, this might be the most attractive version of Office in recent memory.

Veteran technology writer Rick Broida is the author of numerous books, blogs, and features. He lends his money-saving expertise to CNET and Savings.com, and also writes for PC World and Wired.
(Source:
Savings.com
)