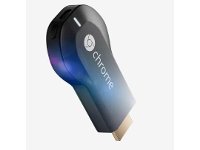 Why you should buy the Google Chromecast
Yesterday, Google introduced
the Chromecast
, an HDTV accessory that's kind of like a cross between an Apple TV and a Roku box. But here's the kicker: It's only $35.
The gizmo looks a lot like a USB flash drive, but instead of plugging into your PC, it plugs into one of your TV's available HDMI ports. Then it feeds video and audio from your smartphone, tablet, or laptop, meaning you can enjoy things like Netflix, Pandora, and YouTube on your big screen.
Needless to say, you can accomplish much the same thing with an Apple TV or Roku box, but the Chromecast differs in a few key ways.
For starters, there's no separate remote; you use your Android or iOS device (or PC) to browse and queue up content, play/pause the stream, adjust volume, and so on.
In fact, the Chromecast is really designed to mirror your small screen to your large one. Thus, in addition to the aforementioned services, you can display anything from your Web browser (Google Chrome only, natch) on your Windows or Mac computer.
And let's not forget, the Chromecast plugs directly into your TV, so there's no box cluttering up the joint. In fact, the only cord required is for power, and if your TV has a powered USB port, you can connect to that instead of an AC outlet.
My favorite Chromecast "feature" isn't really a feature at all: It's the three free months of Netflix you get when you buy one, even if you're already a Netflix subscriber. That's a $24 value, effectively lowering the hardware cost to all of $11. Yowza.
You can pre-order a Chromecast now; Google is currently promising delivery in 3-4 weeks. (It was briefly available via Amazon and Best Buy, but both are now out of stock.)
As someone who already owns an Apple TV and several Roku boxes, I don't especially need a Google Chromecast. But I ordered one anyway, mostly because it's a cool gizmo at a great price.
Indeed, if you've been looking for a way to enjoy small-screen content on your HDTV, there's never been a more affordable solution. Even without any hands-on testing, I'm giving this a solid "buy" recommendation.
Your thoughts?
Veteran technology writer Rick Broida is the author of numerous books, blogs, and features. He lends his money-saving expertise to CNET and Savings.com, and also writes for PC World and Wired.
(Source:
Savings.com
)