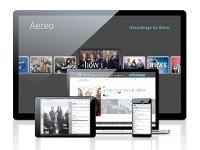 Why you should try Aereo right now
The days of subscribing to cable TV (as we know it) may be coming to an end. And good riddance, if you ask me. I'm tired of paying $60 per month just for local stations and the smattering of cable channels I watch.
Indeed, there's a growing movement of "cord cutters" who would like nothing better than to ditch their monthly TV bill and rely solely on Internet-powered viewing options.
Just one wrinkle: to watch local channels, you need an antenna. Even then you're not guaranteed a perfect picture. And if you want to record shows to watch later? There's no easy way.
Enter
Aereo
, a new service that's available now in about nine major cities and coming soon to over a dozen more. I've been test-driving it for about a month, and although I was skeptical at first, I must admit I'm a convert.
Aereo is the missing link for cord cutters, a way to not only watch local TV, but also record it. Using your Internet connection, the service streams your city's stations live, meaning you can check out local news, sporting events, daytime shows, and, of course, all the major networks.
What's more, Aereo gives you a "cloud DVR" for recording up to 20 hours' worth of shows. I've used that for everything from a saving college football game to stockpiling reruns of "Modern Family."
Perhaps best of all, you're not limited to watching Aereo on a PC--though that's certainly an option. You can also view your live and recorded shows using an Android or iOS mobile device, with Kindle Fire support coming soon. And if you own an Apple TV or Roku box, now you've got a remote-controlled option for viewing on your living-room TV.
Aereo costs $8 monthly, same as Netflix. The latter definitely gives you more bang for the buck, but Aereo offers a different kind of value--and I think that's a very reasonable rate. And if you want more space for recorded shows, there's a $12/month plan that bumps you to 60 hours.
There's just one thing that bugs me about Aereo: to watch TV, you must be within your "home area." That football game I mentioned before? I was hoping to stream it live to my iPhone, but at the time I was about 60 miles away from home, and it didn't work. Aereo is, sadly, no substitute for a
Slingbox
. However, it's definitely a good alternative to your pricey cable or satellite TV bill, especially if you're clinging to one of those services just so you can watch local channels. If Aereo is available in your city, I highly recommend giving it a try, which you can do free for one month. If not, well, hopefully you won't have to wait for long.
Veteran technology writer Rick Broida is the author of numerous books, blogs, and features. He lends his money-saving expertise to CNET and Savings.com, and also writes for PC World and Wired.

(Source:
Savings.com
)