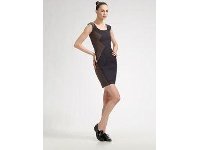 Every Day Zac Posen Looks at Saks
It's true that runway looks are not always ready to wear in your office or out and about, but the
Z Spoke
collection by Zac Posen at
Saks
is elegant--and easy to wear.
The Z Spoke collection is designed with your every day in mind. The minimalist and utilitarian looks won't leave you with crazy looking Lady Ga Ga collars or ruffles fit for a muppet, but instead you will be stepping out in chic pieces from this unique collection that go easily from a day at the office to a night out.
Posen started his design business in his parent's New York City living room until the likes of Naomi Campbell, Claire Danes, Kate Winslet and more began wearing his dresses. Luckily for us ladies, Posen's looks took off.
Admittedly Posen's Z Spoke collection doesn't qualify as "budget"--but it is definitely a bridge line that allows fashionistas to indulge in couture more affordably. Okay--"affordably" is relative. But nothing in the Z Spoke line is over $600 and most pieces are under $500. Compared to the price range of $850-$2,300 for Posen's regular women's apparel collection, it's a bargain indeed!
Take advantage of the Zac Posen
Z Spoke
collection at Saks starting February 26th.