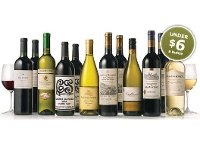 Zagat: Not Just for Restaurant Reviews
My life is pretty hard. No sooner did I finish
sucking down
sampling last week's
gourmet coffee
, I was handed a case of wine to review from
Zagat Wine
. All in the name of science, people.
The case we were sent is the introductory shipment for the
Zagat wine club
. We got the mixed offering containing reds and whites--you can also choose all whites or all reds. In case you were wondering, this introductory offer is $69.99 + $19.99 Shipping & Handling. Giving you a price of a cool $7.50 per bottle. Four wine glasses and tasting notes are included.
Now, back to our regularly scheduled wine review!
(If you are confused as to how it is that eight wines make a case, please note that in the mixed case, you get two each of the reds and one each of the whites.)
Reds

2008 HJ Fabre Malbec
Mendoza
That's a spicy Malbec! Could definitely do with some more time in the bottle or a nice decanting session. I detected some licorice notes, which was kind of fun.
2008 Grande Réserve de Gassac
Vin de Pays de l'Hérault
Not sure of the blend on this but according to the Zagat site it is "a Cabernet-rich treat." I would have to agree with that assessment!
2007 Monasterio de Santa Cruz
Tarragona DO
Dark and mysterious, black fruits, very nice!
2007 Charles Smith Cabernet
Columbia Valley
Charles Smith
is a winemaker extraordinaire whose regular lineup of wines runs from $12 to $100 per bottle. This '07 Cab is grape-tastic, oh-so-smooth and smelled like heaven.
Whites

2009 Collezione di Paolo Bianco Vergine Valdichiana DOC
Fresh, crisp- just writing about this wine makes me wish I was lolling about poolside. It's that kind of wine.
2008 Croftwood Estate Chardonnay South Eastern Australia
My favorite of the bunch, and a big hit at our impromptu office tasting. Pears, apples, just a hint of oak. A light and refreshing Chard that's perfect for the summer months.
2008 Petit Pauvre Chardonnay Monterey County
Much more minerally than your average Chard (
a huge plus, in my book
). Made by Bill Knuttel, a winemaker with a pedigree that'll make your head spin! Or I should say, with a pedigree that'll make the average wine nerd's head spin!
2008 Casas del Bosque Sauvignon Blanc Casablanca

I'm not sure I've ever had a Chilean Sauv Blanc before. This one was bursting with tropical flavors, not citrusy like its New Zealand cousins. Thumbs up!

For more wine info and deals, follow me on twitter @SavingsHSimas