Amp up your 'It' factor: 5 steps for landing a job interview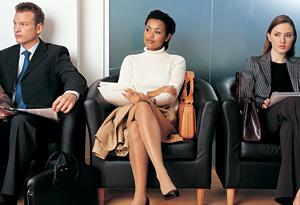 If you decided to take the summer months "off" in terms of keeping up with your professional life (let's be honest, it's been way too hot to do much of anything … so who could blame you?), it's probably time to start kicking it back into gear.
As summer vacations start to wind down at the end of August and into September, it's the perfect time to spruce up your professional appearance if you're in the market for a new job. (And even if you're not, you never know when that dream job might become available, so it never hurts to have all of your ducks in a row, ready to go at a moment's notice.)
Start with these five suggestions to give your professional life a spruce. Who knows — ticking these off your list might even inspire you to get back out there on the job hunt.
1. Update Your Resume
If it's been a while since you last updated your resume, now's a good time to do so. Keeping an up-to-date version of your resume in your email at all times means that you'll never have to hesitate before applying for a great job just because your last two jobs are currently missing from it. Plus last-minute, hastily added additions can lead to costly errors, so it's best to have a fresh pair of eyes look over any additions or changes before sending resumes out to potential bosses.
The same can be said of portfolios and professional Websites. It takes time and patience to scan in items and make online changes, so it's best to do those things when you aren't feeling the pressure of a job application deadline.
2. Check in With Your References
If you're anything like me, your professional references are probably people from past jobs who you not only respect and look up to, but who you genuinely like as people, as well. If busy schedules have kept you from dropping a quick note to say hello or from grabbing a 15-minute coffee with the people who most have your back professionally, make that a priority this season. It's important to let these people know that you think of them outside of the realm of just needing something from them when it comes to getting ahead.

3. Clean Up Your Online Presence
It's no surprise that most companies 'Google' prospective employees before even bothering to call them in for interviews. After all — what's the point of wasting the time with an interview if you can immediately tell someone's not right for a job based on their Facebook profile picture, their Tweets or their LinkedIn content? Take the time to type your own name in Google and see what comes up. Are there old photos from your college days that could stand to be taken down? Is your LinkedIn profile only half complete? And about that Facebook profile picture — is it professional and friendly? If you see something you don't like, now is the time to make any changes, before your would-be-boss can get to it first.
4. Sign Up for a Networking Event
After you've done the due diligence of updating your resume, checking in on your references and cleaning up any embarrassing things online, it's time to promote your skills to the world! More often than not, jobs are offered when personal connections have been made … which is why networking is so important in most industries. Check out your alumni magazine, newsletters and message boards for upcoming events, scour LinkedIn for opportunities or ask around to friends and former colleagues who work in your industry for mixers or industry get-togethers. Having an ear to the ground is a great way to hear about potential job openings before they even have a chance to get out to the rest of the (talented and eager) world.
5. Revisit Your Wardrobe
Fancy new resumes and networking events are a step in the right direction, sure, but the right outfit will help you seal the deal during the interview (along with providing sparkling conversation and asking informed questions, of course!). If it's been a while since you had an interview, go through your closet and see if what you'd normally wear could use a little help (tailoring, stain removal, pressing, etc.) or, if it calls for it, get thrown in the trash altogether. The correct interview attire will vary depending on your line of work (a lawyer working in a corporate office would most likely not wear the same thing day-to-day as, say, an artist working in a studio loft). Whatever the right statement outfit is, though — do some research to figure it out ahead of time and have it tailored and ready to go.
After all, with all the effort you're putting in with Steps 1-5, that perfect interview is bound to be right around the corner.
Cheryl Lock is a personal finance writer at and former editor at LearnVest and Parents magazine. When she's not writing, she enjoys travel, which she blogs about at wearywanderer.wordpress.com.
(Source: Savings.com)