Announcing Save Up '13!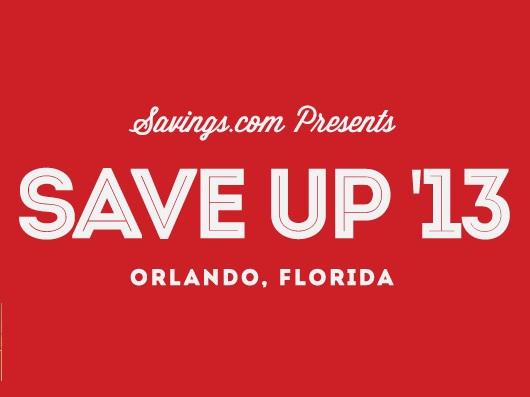 We're thrilled to announce Save Up '13 in Orlando, Florida! This year's event will take place at the Orlando World Center Marriott on August 1st – 3rd. This is our sixth Save Up event, and we're stoked to get together with the DealPros once again for a couple days of learning, networking and fun!
Over the past several years, Save Up has had a few different flavors; our first three events were mainly focused on blogging best practices and community building, and last year's two events were focused on training the DealPro Ambassadors on the coupon class curriculums.
This year, we're going back to the way we've traditionally done Save Up. It'll be all about learning from and networking with each other. The team here at Savings.com will share their expert know-how with the DealPros, and the DealPros will share knowledge and ideas amongst themselves and with us. All of this will be in an effort to think of new ways to help people lead better lives on a budget.
As always, choosing which of the DealPros to invite to the event was a tough decision. We've always aimed to have our most actively engaged DealPros at Save Up, and this year is no different. After much deliberation, it was decided that attendees for this year's event will be the DealPros who've been the most active and engaged with Savings.com throughout the past year by teaching and promoting coupon classes in their area, regularly participating in/volunteering for campaigns we've run with our teammates over at Valpak, and/or by supporting their fellow DealPros and the overall community. Invitees will be notified via a snail mail save the date later this week!
We look forward to spending time with the DealPros in Orlando later this year and to finding new ways to help people save their hard-earned money!