Cook Fast, Live Young: 5 Foodie Gift Ideas to Celebrate Mother's Day 2011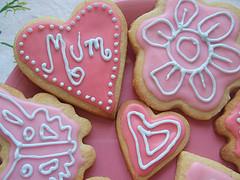 Image by meeni2010 via Flickr

The big day will soon be upon us–Mother's Day. And what are you getting mom this year? The same card and flowers combo you've given her for the last decade? How about this time you take a step away from the floral arrangements and give mom something that will really satisfy her: food. Whether you make something yourself, take her out, or buy something unique, she'll definitely appreciate the change. Breakfast in bed
If you live close enough to your mom, breakfast in bed is a fantastic gift. What's better than waking up to a tray full of deliciousness brought right to you. In bed! Pick her favorite breakfast and make it from scratch. Mom will really appreciate the extra effort you went to… unless your culinary skills are, uh, less than skillful, in which case no one ever has to know if you used a box. Add a single flower in a vase to make it extra fancy!
Brunch
Okay, you meant to cook your mom an amazing breakfast, but you overslept. No problem! Invite the whole family to the table, and make that meal you planned for brunch instead.
Make cookies
There's little better in the world than warm cookies straight from the oven. Bake your mom a batch of her favorites and she's sure to enjoy them. Looking for ideas? Check out AllRecipes.com's list of cookie recipes. They have over 4,400 recipes. You're sure to find something on the list that fits your mother's tastes.
Bake a cake

Besides tasting great, cakes mean celebration. Bake your mom her favorite cake for breakfast to tell her that the entire day is about her. Since it's Springtime, make use of the fruits that are in season. Here are a few recipe ideas: Strawberry Cake, Raspberry Angel Cake, Peach Cake or Plum Cake.
Gift basket
At first glance, a gift basket might not seem like the most personal of presents for mom, but look again. There's a huge amount of variety out there for whatever mom might like: teas, chocolates, fruits, health foods, wines, soups, and even a gift basket with all blueberry-themed foods. You can find all sort of unique, handmade foods on Etsy.com.
Juliana Weiss-Roessler has ten years of professional writing and editing experience. For four years, she managed the web content for the star of an Emmy-nominated reality series. Currently, she is an editor for the geek girl e-zine PinkRaygun.com, a contributor to the career blog at Resumark.com, and owner of the food blog CookFastLiveYoung.blogspot.com. Follow her @cookfast on Twitter and learn more about her work at WeissRoessler.com.