DIY gift ideas for Christmas and beyond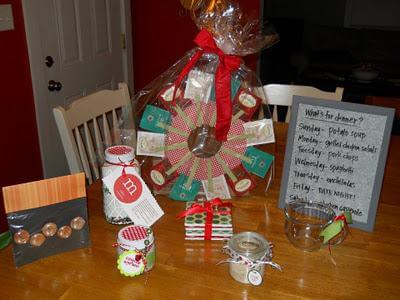 I would have never called myself a crafter or anyone that could really make gifts to give to others. I am NOT a crafty person as in I hot glue my fingers together. That all changed last year when a friend invited me over to a Homemade Gift Making Party she was hosting. There were 8 of us total and we each made 8 different homemade gifts/crafts for Christmas. I completely survived and all my gifts/crafts ended up really cute if I say so myself and the best part, I did not hot glue my fingers together for one time.
We made it so there was a $5.00 cap for each gift that was made. Since there were 8 of us, that meant each person spent no more than $40 on supplies. The ideal cost for each gift was between $3.00-$5.00. Then each person had 30 minutes or so to teach their gift/craft. The gift idea I demonstrated and made was M & M Cookies in a Jar. So I brought all the supplies and ingredients that were needed to make that and each person made one. So essentially we all spent $40.00 or less but we left with 8 different gifts. It was so much fun. I am set for teacher gifts and gifts for a few other special people in my life. I think it would be a lot more manageable with 5-6 people per party. So keep that in mind if you plan to do one.
Here are some things that we made and other ideas I've seen since the party. Oh and there is always glorious Pinterest for more ideas .
Here are some great ideas for other jar gifts.
Melissa Cox aka-Frugalissa is a wife and mom to 2 elementary aged children. Her motto is "Frugal does not mean I have to be cheap". She is into natural living, being green and tries to feed her family healthy, wholesome food while still couponing and saving a buck or two. She teaches workshops where she teaches people how to coupon, save money and make their dollars stretch. She is also an advocate for teaching people to give to those in need through couponing. She writes the blog Frugalissa Finds.
(Source: Savings.com)