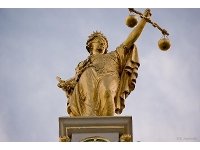 eBay Motors and 4 Reasons You Won't Get Rich from Class Action Litigation
Today I received a settlement check. It came in a regular envelope and was addressed to me. I don't remember filling anything out, but I was informed by the letter inside that I was named as part of the class in a
recent lawsuit against eBay Motors
. The check was for $0.49--barely covering the cost of postage, and most definitely not covering the cost of printing.
This is typical of many of these types of consumer actions, and here is why you likely won't be much better off after receiving a settlement from a future lawsuit:
There are thousands, if not millions, of claimants. When a class action is filed, everyone that could have been "harmed" is named. In my case, the claim was made on behalf of every person who had listed a motor vehicle part on eBay Motors and paid a final value fee during a period of about four years. With many eBay sellers making a living in the auto parts section, this is a hefty number of people to have to share the settlement payout.


Lawyers get their cut, too. As if the payout from a settlement isn't diluted enough by the sheer number of people involved, the legal representation of those people get a good chunk of the payout. In the case of the eBay verdict, the settlement terms guaranteed legal counsel to get up to 25% of the settlement fund for themselves (to cover fees and expenses, of course). The actual dollar amount can vary, depending on the anticipated final value of the settlement.


The "representing" claimants get paid more than the rest. In the eBay Motors settlement, two plaintiffs were named as class representatives. They were awarded $15,000 for their trouble.


You sign away individual rights to more money. If you were indeed severely harmed by the actions specified in a lawsuit like this, you may not want to saddle up with the rest of a class. In doing so, you give up your right to go after a company on your own, for possibly more money, and you subject yourself to whatever outcome is decided in the class action lawsuit. In my case, had I been severely harmed by eBay Motors a $0.49 payout would be an inappropriate amount of compensation.
Class action lawsuits happen all the time in the U.S. At any given time, you may find notices for two or three in the back of a magazine, on a familiar website, or even in your email inbox. While the promise of millions of dollars from a company for alleged wrong-doing may seem exciting, the fact remains: class actions of the consumer kind will rarely put you ahead. They are even less likely to make you rich.
Have you received payment from a class action lawsuit? Was it worth it?