Four Great Valentine's Day Gifts for Your Geeky Sweetie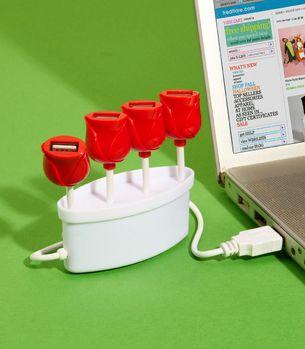 It's one week until Valentine's Day, which means you still have time to buy a great gift for the geeky significant other in your life. I've rounded up four gems, all of them affordable, all of them sure to please. Take a look:
Geeks speak a different language–namely, hex code. This shirt has it all: code, poetry, and an obscure pop-culture reference. Don't worry if you don't get it–your geeky sweetheart will. The Geek Love Poem shirt is available exclusively from ThinkGeek, with most sizes selling for $16.99.
Logitech Mini Boombox

Set the mood with some romantic tunes, courtesy of Logitech's adorkable little speaker. Thanks to its built-in Bluetooth receiver, your music can stream wirelessly from your smartphone. So queue up your own library of Barry White's best, or tune into the Valentine's Day channel with your Pandora or Spotify app. Either way, you'll get nice, big sound from this palm-size speaker. It normally sells for $99.99, but TigerDirect currently has the Mini Boombox for $59.99 shipped.
"Ready Player One"
A novel by a geek, for geeks, "Ready Player One" takes place in a dystopian future (is there any other kind?) dominated by a virtual-reality network. When the network's creator dies, he leaves behind a Willy Wonka-style contest: solve a series of puzzles based on 80s pop culture, and unimaginable fame and fortune will be yours. Our hero thinks he can do it, but first he'll have to outwit not only a legion of competitors, but also a bloodthirsty rival corporation. It's riveting, entertaining fiction, especially for anyone who came of age in the 80s. Amazon sells the hardcover for $15.02, the Kindle edition for $11.99.
USB Tulip Hub
Forget flowers; they'll be wilted by President's Day. But the bright red tulips poking out of this four-port hub will bloom all year long. This non-powered hub is a great companion for USB-starved laptops, turning one port into four. The USB Tulip Hub sells for $24 from Fredflare.com.