Free Hot Samples: Free Thanksgiving Recipes and e-Cookbooks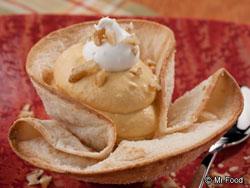 Thanksgiving is creeping up on us, it will be here before you know it. Everyone is looking forward to the meal that puts us all in a food coma. It's a big job–literally a day of cooking. Do you have your menu planned yet? Even if you do, you will want to check out the free recipes available. There are recipes for your meal from start to finish. You can try the Bacon Basted Turkey or one of the other eight turkey recipes. There are some delicious side dishes and desserts you can make. If you have a pumpkin to cook there are 19 recipes you can choose from along with 18 homemade stuffing recipes.
With these recipes your sure to have a great Thanksgiving dinner. All recipes are from MrFood.com.
18 Shortcut Homemade Stuffing Recipes: Includes traditional stuffing recipes, cornbread stuffings, vegetable stuffings and change of pace stuffings.
19 Perfect Pumpkin Recipes: Pumpkin Cheesecake Soup, Pumpkin Bread Pudding, Fresh Pumpkin Chips, Easy Pumpkin Bread and more.
2 Step Turkey Gravy Recipe: Follow the easy two step instructions to make homemade gravy this Thanksgiving.
The Ultimate Thanksgiving eCookbook: 40 recipes. Recipes include: Golden Stuffed Mushrooms, Pecan Cranberry Brie, Cornish Game Hens w/Apricot Stuffing, Butternut Squash Lasagna, Traditional Herb Stuffing and more.
Bacon Basted Turkey: That's right, everything is better with bacon! Follow the recipe to make yours.
Apple Raisin Glazed Ham: Some folks make a ham instead of turkey, this is a good way to flavor the ham.
Autumn Harvest Bread: Make the holiday extra special with homemade quick bread. This bread is loaded with butternut squash, applesauce, cranberries and walnuts.
Butternut Squash Soup: A fantastic start to Thanksgiving dinner.
Turkey Main Dishes eCookbook: 8 turkey recipes, recipes for Cornish game hens and vegetarian side dishes.
Simple Turkey – One Pot: That's right, a slow cooker recipe! Doesn't get easier than this.
Bacon Turkey Gravy: Again, everything is better with bacon.
Roast Turkey Breast: Perfect for smaller crowds.
Pumpkin Mousse Baskets: An unforgettable dessert.
Thanksgiving Feast eCookbook: Recipes include: Crab Spread, Sweet Potato Biscuits, turkey leftover recipes and more.
Thanksgiving Countdown Tips: Helpful hints for prepping the turkey and the rest of your meal. You can also check out Turkey Carving Tips.
Since today's Veterans Day, don't forget to check out the Veterans Day freebies I posted a couple of weeks ago.
Jackie lives in Seattle, her blog is Free Hot Samples. Where there are hundreds of freebies and deals up for grabs!