Free printables for Mother's Day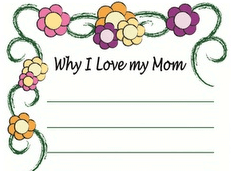 My kids are still young, so nothing is more special to me than when my son or daughter brings me a flower from the yard or colors me a special picture. Finding a free printable is a great way to get the younger kids involved with celebrating Mom for Mother's Day.
If you're looking for some cool printables to get the kids involved in honoring Mom for Mother's Day, here's a list of freebies for ya, enjoy!
1. The Scoop! Mother's Day Edition
2. Sweet, Why I Love My Mom Mother's Day Note
4. Free Printable Cards in Various Colors
5. 7 Downloadable Mother's Day Cards
6. Free Mother's Day Printable for Photos
7. Free Party Favor/Decoration Printables
9. Mother's Day Questionnaire Download
Have you found any great free printable for Mother's Day? Please share so we can all check them out!
(Source: Savings.com)