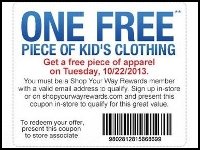 Freebie Corner: Free kid's apparel at Sears Outlet and Sears Apparel Warehouse stores
Grab the kids and head to Toys R Us this afternoon for the free LEGO Build. Get there early because spots fill up quickly and there's a limited supply of kits. On Tuesday, head on over to Sears Outlet or Sears Apparel Warehouse with your coupon and get your free kid's apparel.

If you live in New York or Illinois, find out where the Stouffer Food Truck will be and grab a free cup of Stouffer's Mac & Cheese. It will have toppings like bacon and chives or buffalo chicken. Yum.

Black Friday freebies already? Go to JCPenney on Black Friday and get one of the Micky Mouse Snow Globes they'll be giving away. These go quickly, so be sure to get there early.

Freebie #3 -
LEGO Build Event at Toys R Us
.
TODAY! October 19th - Noon - 2pm.
For kids 5 and older, parental supervision required at all times. Event materials available while supplies last and distributed to participating children only. One per child.
Freebie #4 -
Stouffer's Mac & Cheese. Starting October 16th, the Stouffer's truck will be in OH, NJ, NY, IL and handing out free cups of Stouffer's Mac & Cheese with
toppings such as savory bacon and chives, as well as tangy buffalo chicken.
These are the dates that remain:
NY Schedule
IL Schedule
Freebie #5 -
Snow Globe Inside JCP
- JCPenney gives snow globes out every year on Black Friday.
If you want one, you need to
be at the store as soon as it opens on Black Friday because the globes go quickly.
Freebie #6 -
Free Kids Apparel
. On 10/22 Sears Outlet & Sears Apparel Warehouse - You must be a Shop Your Way Rewards Member and present the printable coupon to get the freebie. Limit 1 piece per customer. Applies to kid's clothing only. Excludes outerwear. No purchase necessary. Valid at Sears Outlet and Sears Apparel Warehouse only. Get to the store early because they'll only offer 50,000 free pieces of clothing nationwide.
Jackie lives in Seattle, her blog is Free Hot Samples.
(Source:
Savings.com
)