How to make your cookie exchange a roaring success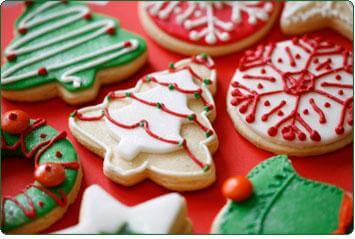 There's nothing better than cookies during the holidays? (Well, maybe a few things.) But there's nothing literally sweeter than cookies during the holidays. And having a huge variety on hand never hurts either. Best way to get this variety…host or attend a cookie exchange! Here are 3 Tips to Make Your Cookie Exchange a Huge Hit:
Set the Mood — Have that holiday music playing the background, have a pot of oranges slices and cloves simmering on the stovetop, and have your table ready to receive all the different cookies that will come through the front door. Have decorative cards ready for guests to write down the name of their cookie and slip into a place-card holder near their plate of cookies. And don't forget to have some light (and savory) appetizers for guests to enjoy. A pot of hot chocolate or wassail will complete the atmosphere and mood for your guests.
Cookies that Last — When deciding which cookies to make or take to the exchange, consider a cookie that will last a few days and still taste like it's fresh. Suggestions would be: Gingerbread cookies, Biscotti, fudge, Thumbprint type cookies, crispier cookies, and any kind of "chip" cookies, such as Cranberry-Cashew Chocolate Chip cookies. Just be sure to store them in an airtight container, to help them last longer.
Dollar Store Storage Containers — Treat each guest to a decorative tin or storage box from the dollar store to take home their new stash of cookies.
Now you're ready to party…invite over a few friends…and enjoy all the sweet holiday delicious-ness that comes from any cookie exchange! What's your favorite holiday cookie?
Erin Chase is the founder of $5 Dinners.com and author of The $5 Dinner Mom's One-Dish Dinners Cookbook.
(Source: Savings.com)