Priceline Your Way to Great Hotel Deals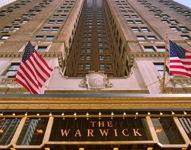 Admittedly I am not much of a traveler and therefore I'm not your go-to source for how to score great hotel deals like Holly or how to plan a vacation to take advantage of hot travel deals like Loren, but should I ever need to find a way to put together a cheap vacation I do have one secret weapon in my arsenal: my sister Laurie.
Recently I enlisted her expertise on behalf of a friend of mine and she came up with such awesome tips on how to get hotel deals using Priceline that I decided to share her insights with the Blog & Save readers: Priceline is my favorite tool for hotels. You should take some time to review all the listings of available hotels [in whatever area you plan to visit]. I usually write out the prices and star levels for the areas I'm interested in bidding on so I get a sense of how low I can bid and what hotels I am likely to end up in. Sometimes there is a bad hotel or bad location in the area at a low price and I'll assume it affects the bidding, so I avoid certain star ranges in certain areas.
You can bid every 24 hours and you can re-bid within the 24 hours if you change your dates, your star-level, or your area of the city. Keep in mind, when you make any changes, the bidding process continues to include your original choices. So if you started in one area and then moved to another and dropped your star range below 3, it will include those hotels in your first bidding criteria. But when you bid different areas on different days, you start anew each time.
Bid low! Don't be pressured when Priceline tells you that you are bidding too low! Start at least 50% lower than the recommended price. If you're bidding early start even lower. And go big! Start with the 4 stars! You probably won't get it at the price you're offering, but imagine if you do! Wooohooo! Of course the conundrum with Priceline is that your best deals come late in the game so you have to be gutsy and be willing to try up until the last minute. Once you get to the last minute you can always raise your bids. Don't bid every day early on. They do track you.
Another option is Airbnb.com. People post a room in their apartment or sometimes the whole apartment, I think you arrange through PayPal. I've never done it, but I've heard good reviews.
So those are my sister's Priceline tips. Do you use Priceline to score travel deals? If so, what are some of your tricks?