Money Saving Mother's Day 2010 Gift Ideas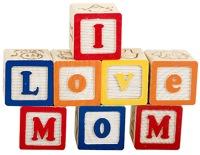 Sara recently blogged about Mother's Day gifts that are a bit more original than the standard flowers, candy or jewelry. But for those of you still looking for ways to say "Thanks, Mom! " while saving money, we decided to go to the experts.
Our DealPros . Because not only are they exceptionally savvy savers, many of them are also moms. Or have a mom. So we asked:
"What was the best Mother's Day gift you ever gave or received? "
Card with Handwritten Message
Nicole of Nicole's Nickels tells us: "My favorite gift to give on Mother's Day is a heartfelt card with a handwritten message conveying what my mom (or grandmother) means to me and how much I appreciate having them in my life. This is a frugal gift that comes from the heart and means more than spending a lot of money! "
Mindi of Moms Need to Know had a similar suggestion: "The best Mother's Day Gift that I ever received was a book that my then-6-year-old son made me. It was a "Love Book" stating all of the reasons that he loved having me as his mommy. I literally cried when I read it! "
Several of our DealPros did mention the traditional gift of jewelry–albeit with a personalized twist. Erin of Coupon Cravings said,

"My favorite Mother's Day gifts have been charms for my Tiffany charm bracelet that represent each of my children. Either a girl or a boy head, and on one side is my child's name and the other side is the birth date. I have four kids, so my bracelet jingles quite a bit!"

Toni-Lynn of Delightful Chaos offers up her favorite gift:

"My Husband had a ring made for me. Three heart-shaped stones that represent every aspect of our lives. July/Ruby: My and my first son's birthstone, May/Emerald: My second son's birthday and the month [my husband and I] were married and Aquamarine/March: [my husband's] birthstone ."
For Ashlei of Coupons Deals and Steals , her Mom's most beloved gift wasn't one that came from the jewelry store, but instead was made with love:

"In third grade our teacher set out tons of different beads for us to create a necklace for our mothers. I remember being so proud of mine and couldn't stop smiling when my mom opened hers. The sweetest thing is that she would wear it often and kept it on the top of her jewelry box for me to see that she treasured it as well ."
Clair of Saving Money Plan suggested this frugal yet thoughtful alternative to a store-bought gift:

"The best mother's day gift you can give that ALSO costs very little is to create a coupon book full of experiences, free labor, and even–yes–things you'll shell out money for. A coupon book can include: free babysitting, a breakfast out, a free massage, free flowers, free yardwork, etc. "

It's a great way to give all year.
What's better than a dozen roses or festive Spring bouquet? How about a gardening gift? Tiffany of My Litter recalls the best gift she ever received:

"Last year, my husband, (who is not the most thoughtful) took my 6 children to a pottery place and had them make this beautiful herb garden planter for me!
The reason why it is so special is that it took some thinking ahead to do it. It wasn't a last minute gift that he ran to mall and got. It wasn't easy to sit as his desk and make s few clicks to order something. He had to actually find the place, pick the kids up from four different schools, take the time to have them make it, plant the plants in it himself, and keep the kids quiet about it!

The plants might die, but no matter what happens it will always be one of the most special gifts I have gotten. It is not worth much money, but the value is in the thought and time behind it, that my husband cared enough to do something unexpected and special for me

."
Angela of The Suburban Jungle also prefers plants:

"Every Mother's Day my children buy veggies for my garden. It's the perfect time of year (risk of frost has passed), it's practical, inexpensive, and I love it! It's the perfect gift ."
Centsable Momma Corrie reminisces about the best gift she ever gave her Mom:

"

One Mother's Day when I was little, I scoured a yard sale up and down for the best Mother's Day gift. I found a globe with a flower in it…slightly cracked, but perfect. I was so proud to give that gift to my mom, since I had earned the money to buy it, and I had picked it out just for her

."
And finally Barb of The Coupon Cupboard shares her perfect Mother's Day gift: relaxation!

"A package for a massage of the month club from a local place. It was good for one year! "
Just goes to show you that some of the best Mother's Day gift ideas can also be the least expensive. And while flowers will wilt and die and candy will disappear in a day, a macaroni necklace made with love will be a cherished memory forever!
What the best Mother's Day gift you've ever given or received? Let us know in the comments!