The Tech-pert: Make Tax Time Less Painful with NeatReceipts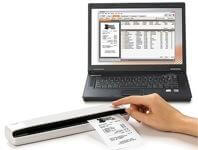 It's tax time again, which for me means another sad, annual realization that I'm hopelessly, endlessly disorganized.
But 2010 is going to be different. That's because I'm now using a NeatReceipts scanner to scan, store, and organize all my receipts. This USB-powered, travel-friendly device (which can be used for more than just receipts) normally sells for $199.99, but Buy.com has NeatReceipts for just $139.99 plus about $8 for shipping. (Using a Buy.com coupon, you can get $5 off $100 or more–which makes shipping less than $3…)
Sheet-fed scanners like this one have been around for years, but where NeatReceipts is concerned, the secret is in the software. Just scan a receipt and the software automatically recognizes the date, the name of the store, the amount of the purchase, and so on. You can categorize your scans (business, personal, etc.) and even tag them with specific tax-form information.
When tax time rolls around, you can export the data to an Excel spreadsheet, Quicken, TurboTax, and other programs.
NeatReceipts can also work its scanning magic on bills, business cards, and everyday documents. It's the first step toward the paperless office technology's been promising us for years. I'm a big fan of the product–especially when it's available for sixty bucks off the list price.
Self-proclaimed cheapskate Rick Broida has been a technology writer for over 20 years. He has authored over a dozen books, including, most recently, "How to Do Everything: Palm Pre." Currently he writes the Cheapskate blog for CNET, the Hassle-Free PC blog for PC World, and technology stories for Popular Science, Wired, and other magazines.