Rush Limbaugh's Tea and Other Weird Celebrity Endorsements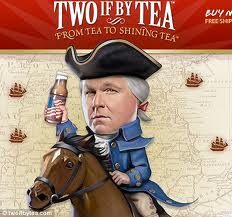 Conservative talk radio host Rush Limbaugh is endorsing a line of sweet tea. The Paul Revere-themed beverage is called Two if by Tea, and it's taken the tea pun market by storm. Watch out, The Old Man and the Tea. Even though studies have proven them largely futile, celebrity endorsements still abound, to the delight of bored web surfers everywhere. Here are five other strange celebrity-endorsed products.
1. Jerry Rice & Nitus' Dog Football for the Nintento Wii
Retired football player Jerry Rice has teamed up with his dog Nitus, and also developer Judobaby, to promote Jerry Rice and Nitus' Dog Football for the Nintendo Wii. Players can choose to play as one of several human characters, including Rice and other football stars. They then direct (coach?) a team of dogs using the Wii remote. Rice's dog Nitus acts as Official Commissioner of the league, obviously. The game is the first in a line of Pet Sports League games for the Wii. I'm not sure if that makes me more or less confused, but one thing is certain: it's cute that Nitus' name is in the game's title.
2. Dan Akroyd's Crystal Head Vodka
Dan Akroyd doesn't just endorse Crystal Head Vodka, he co-founded Diamond Estates Wines & Spirits Ltd, the company that produces it. The liquor itself is your basic quadruple-distilled, triple-filtered, pricey vodka, which is nothing new. The weird part is that it comes in a glass skull, as an homage to the crystal skulls legend. Aykroyd, as a Spiritualist and generally New Age-y person, is a big believer in the legend, which tells of 13 "mysterious" crystal skulls alleged to be from pre-Columbian times. The skulls have been largely debunked as 19th-century forgeries, but that hasn't stopped people from purchasing Crystal Head for the sheer novelty of it.
3. Sylvester Stallone's Pudding
Sylvester Stallone 's High-Protein Pudding, a disgusting-sounding product aimed at bodybuilders, had a tragically short run. In February of 2011, Stallone and his business partner John Arnold were sued by William Brescia, who claimed that Stallone and Arnold had stolen his recipe. Manufacturing of the product ceased, Stallone stood trial for theft, and articles entitled "The Proof is in the Pudding" enjoyed a heyday.
4. Dexter Holland's Hot Sauce
If you kind of remember Dexter Holland, lead singer of pop punk band The Offspring, then you'll kind of care about his venture into the world of hot sauce. Gringo Bandito Hot Sauce pokes fun at itself and tries to keep things punk with edgy copy – the website features a recipe for an "Anarchy Burger, Hold the Government." That's a cheeseburger with hot sauce, for all you squares out there.
5. Nelly's Pimp Juice
Rapper Nelly co-owns Pimp Juice, which is "hip hop's #1 energy drink," whatever that means. Created in 2003, the beverage was inspired by Nelly's hit song of the same name. Not surprisingly, many groups have decried Pimp Juice because they feel it promotes African-American stereotypes and the degradation of women. Nelly maintains that Pimp Juice is "color-blind," and offers the dubious explanation that the word "pimp" has changed meaning over the years, and now carries a positive connotation. It's rumored that Pimp Juice is no longer being produced, as it can no longer be found in retail stores, but the company has not released any statement on the matter.
What other weird celebrity-endorsed products have you heard of? Let me know in the comments.