Savings.com adopts 5 families for the holidays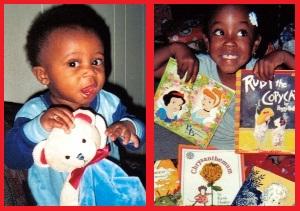 (photo credit: Beyond Shelter)
The holidays are all about giving and there's nothing better than giving a gift and seeing the smile on that person's face. It's priceless. It brings me back memories of walking down Michigan Ave. along The Magnificent Mile and passing my regular blind man who always stood there waiting for donations on the corner of Ohio. I would usually give him a dollar every time I passed, but closer to Christmas, I would give him a $10 or $20 bill (these were my college days).
Last week, I was at the Mattel Store in El Segundo and this nice couple that stood in front of me had 2 whole carts full of Barbie Dolls and other Fischer Price toys. After the cashier scanned everything and gave them the total, they had to remove 2 toys to the side. It was really hard to watch. I called for the lady and handed her a coupon that took off $25 from their purchase. The couple not only had tears in their eyes, but they thanked me a dozen times (they purchased the remaining 2 items they took out). I asked the lady if she was doing all her Christmas shopping that day and she said that they were buying gifts for an orphanage in Mexico. Folks, this is what the holidays are about. At Savings.com, not only are we passionate about maximizing your savings potential, we're also passionate about giving back as much as we can. This holiday season, we've adopted 5 families from Beyond Shelter, a local Los Angeles non-profit that sponsors the "Housing First" program to help homeless families move out of shelters and into permanent housing as quickly as possible. Once back in housing, each family is provided with home-based case management giving them opportunities to improve and rebuild their lives.
For each family member, we are trying to get the 3 things on their need list and 3 things on their wish list. My team's family had socks, underwear, clothes and other everyday items on that list. Their wish list consisted of a bike, a toaster and even a comforter. The things that most of us take for granted on a daily basis were things that my team's family did not have (this experience has humbled me in so many ways).
Our budget is $1,000 for each family and our goal is to get as many things on the need and wish list, provide $100 worth of groceries, and leave some money for the families to use.
We've been separated into 5 groups for a friendly challenge of how much money we can save using Savings.com coupons, printable coupons and more. The teams will be judged on largest % savings overall, most grocery items purchased with $100, largest $ value left on gift card (which can then be contributed to the families), and largest % savings on one item.

The more money we can save, the more we can give to our families. Saving money couldn't be more important than now! Check back in a week or so for a final tally on the results and what we were able to provide our 5 families.
Let the savings and giving begin!
(Source: Savings.com)