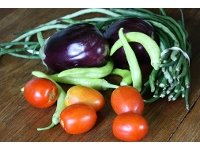 Savings Secrets: Your guide to starting a menu plan
Last week I talked about picking out your "
Fast Five Meals
" to help you both save time and money. These are five quick meals that you always have the ingredients on hand for, and can throw together the meal in no time at all. While this is a great start to menu planning, it's time to take it a step further. Here are the basic steps to starting a menu plan.
Step One
: Like I said before, start out by picking your "Fast Five Meals." You always have these to fall back on if you're in a rush.
Step Two
: Sit down with your family and make a list of 30 of your favorite meals. Let everyone contribute and share his/or her ideas.
Step Three
: Use this list of 30 meals to plan out a month's worth of dinners. Here's a handy-dandy
free printable for menu planning
that you can use.
Step Four
: Rotate your meals that you have every week, so that nothing is overdone.
Step Five
: Supplement some of your meals with items that are on sale, or produce that is in season.
Step Six
: Once you are good at planning out the dinners, you can easily add in a menu plan for breakfast and lunches.
You can find out more about menu planning and saving on groceries at a
Savings Nation grocery class in your area
.
What are some of your tips for starting a menu plan?