The Health Benefits of the Standing Desk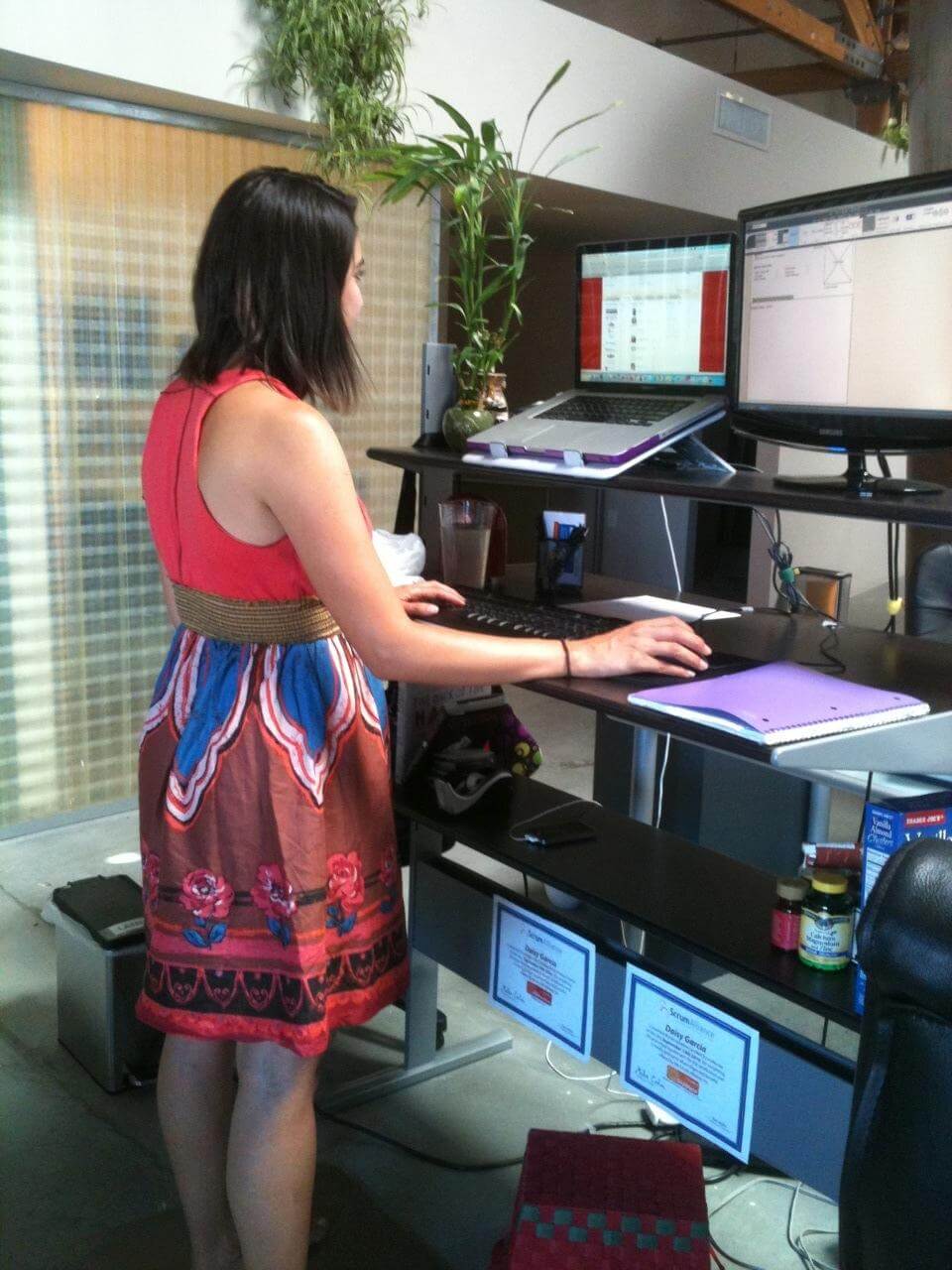 How many of you sit for 8 hours a day, slouched over at your desk while staring at the computer? Most of us who have office jobs don't really have a choice in that matter. I am one of those office workers that sits at her desk all day long. However, I do try to move and walk around every 20 minutes or so. Recently, Mashable posted a great infographic about the dangers of sitting all day. One of the risks is a 40% increase in dying within the next 15 years even if you exercise! Another is weight gain.
Shocking? Yes. But, don't fret, there is a solution to this. I present to you: The Standing Desk. A few of my coworkers have already adopted this style of working and they were very gracious in answering a few questions I had in regards to this new style of working. Our standing desk pioneers, Chris and Jacob have had their standing desks for almost a year now and are still standing 6 or more hours a day.
Chris said that his "health and posture have definitely improved" and he's "lost 5 pounds due to standing, although weight loss" wasn't his goal. Daisy, Kristen and Jill who have been standing for two weeks or less still recommend the standing desks despite pain in their lower back, legs and feet. Kristen says foam floor mats help with the pain and she has been able to sleep through the night because she is wiped out from standing all day. Jill seconds the positive effects of the foam pads and says "if you wear cute shoes, you can just take them off and stand on the pad instead of standing in heels all day."
What a great point! When asked if any of them would go back to a sitting desk, I got a resounding no from most everyone with Kristen saying she "doesn't feel like a ball of mush" like she does when she sits. Jill isn't sure about going back to a sitting desk yet, as "it might be nice to do a little of both" but she does sit at her desk at home.
If you are considering converting to a standing desk, don't worry, it takes time to get used to. Most of my coworkers were tired the first few days, but have been standing progressively more after the initial intro period. You can also get desks that "adjust from standing to sitting and vice versa" according to Jacob.
How much do these standing desks cost? It all depends on your budget. Jacob and Chris got theirs for a mere $25. They bought 2 flat wooden boards from Home Depot and screwed them onto the wall in their offices. This allowed them to custom build them to their heights. Target has some stand up desk stations that cost $200. Or check out this list of 17 standing desks that will save your life, some of which include a treadmill!
As you can see, the health benefits outweigh sitting all day. So, would you convert to a standing desk and why?