The Tech-pert: Get 5GB Free Cloud Data Storage with SugarSync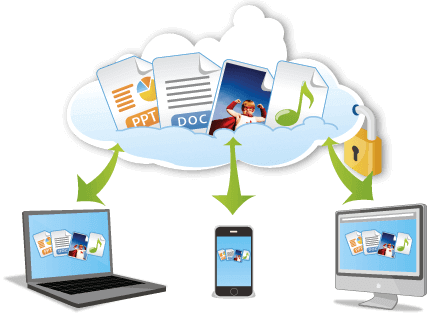 SugarSync is a fantastic storage service that syncs files from your PC to the Web, other PCs, and various mobile devices. Don't think you need it? Read the following TRUE HORROR STORY before you decide. One dark and stormy night, your computer suddenly locks up. You reboot, and a few minutes later it locks up again. You try another reboot, only this time the start-up screen flashes a message about "imminent hard drive failure." That eerie feeling creeping up your spine is the realization that your data is trapped inside a dead PC.
This happened to me about a week ago. Everything except the last part, because although my system had failed, my data lived on in [cue "Ta-da!" music] the cloud. All I had to do was fire up my secondary computer, where, thanks to SugarSync, I could instantly access my files online or download them to my hard drive.
SugarSync storage plans start at $49.99 per year for 30GB of space–well worth it, in my humble opinion–but right now you can get a 5GB SugarSync account free of charge, no strings attached.
Still don't get how the service works? Check out this groovy promo video. (Warning: The techno-pop soundtrack WILL get stuck in your head.)
SugarSync isn't designed strictly for backup purposes, though it excels in that regard if you're looking to preserve precious data. It's also ideal for remote access to documents, music, videos, and other files.
And it's a snap to use. With a few clicks you can designate any folder to be a "sync" folder, meaning its contents automatically get copied to SugarSync's servers (where they remain totally private and secure, FYI). You can also drag and drop files and folders to the "Magic Briefcase." That's really all there is to it.
You can access those files from any Web browser on any PC, or from your smartphone: SugarSync offers free apps for Android, BlackBerry, iOS, and Windows Mobile.
There are similar services out there, most notably Dropbox and ZumoDrive, but their freebie accounts top out at 2GB. I highly recommend grabbing yourself SugarSync's 5GB of sweet, sweet free storage, then syncing your most prized files right away. Because THE HORROR of data loss can strike at any time.
Self-proclaimed cheapskate Rick Broida has been a technology writer for over 20 years. He has authored over a dozen books, including, most recently, "How to Do Everything: Palm Pre." Currently he writes the Cheapskate blog.