The Tech-pert: Kindle Library Lending and Two Other Ways to Score Free eBooks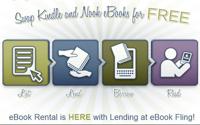 Regular Tech-pert readers know of my fondness for e-readers–and my hatred of e-book prices. (Sorry, publishers, but you can't give me a good argument for why older and out-of-print titles aren't priced at a buck or two.)
Fortunately, there are ways to get books for your Amazon Kindle (and, in some cases, your Barnes & Noble Nook) without spending a dime. Don't worry, they're all perfectly legal–though there are a few limitations.
First up: a virtual trip to your local library. Kindle Library Lending

Yesterday, Amazon announced Kindle Library Lending, a new feature that allows Kindle device owners and app users to "check out" e-books from more than 11,000 public libraries.
If that sounds a bit familiar, it's because users of the Nook, Sony eReader, and other devices can already do just that. With Library Lending, Amazon is playing catch-up. But who cares? Libraries have always been the best source of free reading material (thank you, Ben Franklin!), and finally Kindle users will have the chance to take advantage of them.
Amazon is partnering with OverDrive, the same service that makes library books available to other e-readers. We'll have to wait and see if Kindle users will be able to browse, check out, and download books right on their devices, or if it'll require some PC interaction. Library Lending is scheduled to launch "later this year." I can't wait.
eBook Fling
It's a little-known fact that Amazon now allows Kindle users to "lend" e-books, a nice option for sharing great reads with friends and family members. eBook Fling takes that idea a step further, pairing you with strangers so you can borrow books you want to read–and vice versa.
Just yesterday, for example, I added the novel "Skippy Dies" to my eBook Fling wish list. A couple hours later, I received an e-mail telling me it was available. A few clicks after that, I was reading the book on my iPad (using the Kindle app, natch).
The cost for this was one "credit"–the one I got just for signing up for a free eBook Fling account. You earn more credits by loaning your own books to other eBook Fling users. (You can also buy them: 3 credits for $8.99, 10 for $19.99, or 20 for $29.99.)
There are some restrictions. Loaned books "expire" after 14 days, so make sure you have time to read whatever you borrow. Also, some publishers don't allow lending, so not every book you want–or own–will be available. And each book can be loaned out only once, meaning you can't score endless credits with an in-demand title like "Twilight."
Even with these limitations, eBook Fling is definitely a worthwhile destination for book lovers.
eReaderIQ

As you may know, Amazon routinely offers e-book freebies and discounts. Okay, but how can you browse, search, and track these wallet-friendly options? Head to eReaderIQ, home to a huge database of free and discounted Kindle books.
The site is a little disorganized and hard to navigate, but with a little time you'll figure it out. For example, if you scroll down a bit on the home page, you'll find the Recent Activity section, where you can click to switch between recently added freebies, recent price drops, and recently "Kindlized" books (i.e. those that have just made the move from print to e-book).
While perusing the freebie listings, you can click the little green book icon to open a preview window, where you can read the actual book in Amazon's Kindle new Web viewer. The orange star icon shows user reviews, while the Info link gives you a book summary.
The site also offers a Price Drop Tracker: Just enter the ASIN or URL for any book, your e-mail address, and a notification threshold (the price at which you want to receive an alert) and eReaderIQ will notify you when the book hits that price. It'll also send you daily digests of new freebies.
What do you think of this latest Amazon Kindle development? Will Kindle Library Lending make you more likely to choose the Kindle over other e-readers? Share your thoughts–and your favorite e-Books–in the comments below.
Self-proclaimed cheapskate Rick Broida has been a technology writer for over 20 years. He has authored over a dozen books, including, most recently, "How to Do Everything: Palm Pre." Currently he writes the Cheapskate blog.