The Tech-pert: NetTalk Duo Review – Ditch Your Landline Phone Service!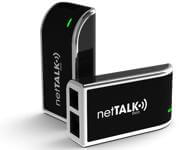 I know a ton of people who'd like to abandon their pricey home phone service, but still want the equivalent of a landline for convenience, emergencies–and the occasional marathon chat session (one that won't eat into their mobile minutes or drain their cell phone's battery). Enter the NetTalk Duo, a kissing cousin to the famous MagicJack–but better product all around. This little gizmo plugs into your PC or router to provide dirt-cheap calling. How cheap? For $69.95 you get the device and one year of unlimited local and long-distance service. After that, each year costs just $29.95.
All you need at your end is broadband Internet service, be it cable or DSL. The Duo incorporates voice-over-IP (VOIP) technology to make and receive calls using your Internet connection, rather than the copper wires of old.
You also need some kind of phone, but whatever cordless system or handset you own already can plug right into the Duo. This works especially well if you connect the Duo directly to your router, meaning you don't have to leave a PC running 24/7 to keep your phone line active.
Initial setup of the Duo requires you to download and install a USB driver–a minor hassle. From there you'll select a new phone number, one that matches as closely as possible to your area code and city. Alas, number porting isn't available–the one real downside to making this your landline replacement.
The Duo offers some commendable calling features, including Caller ID, Call Waiting, and voicemail (which can get delivered via e-mail as an audio attachment–very cool). You also get free 411 calls, three-way calling, and Google Voice-style call forwarding: calls to your Duo number can be set to ring your mobile phone, work phone, and any other number(s) you want.
In my tests, the Duo worked like a champ delivering loud, clear calls–even during some heavy-duty file sharing (which can tax that all-important Internet bandwidth).
NetTalk's toll-free tech support is available seven days a week and you can also submit a ticket online. When I did so (on a weekday), I received a problem-specific, typed-by-humans (as opposed to canned) response within about 20 minutes.
Ultimately, the NetTalk Duo is an inexpensive and effective way to add a phone line. And if you're not concerned about keeping your number, it could prove the cheap-o phone service of your dreams.
Self-proclaimed cheapskate Rick Broida has been a technology writer for over 20 years. He has authored over a dozen books, including, most recently, "How to Do Everything: Palm Pre." Currently he writes the Cheapskate blog.