This Week in Deals: Save 40% Off Your Entire Orders at Carter's, Plus More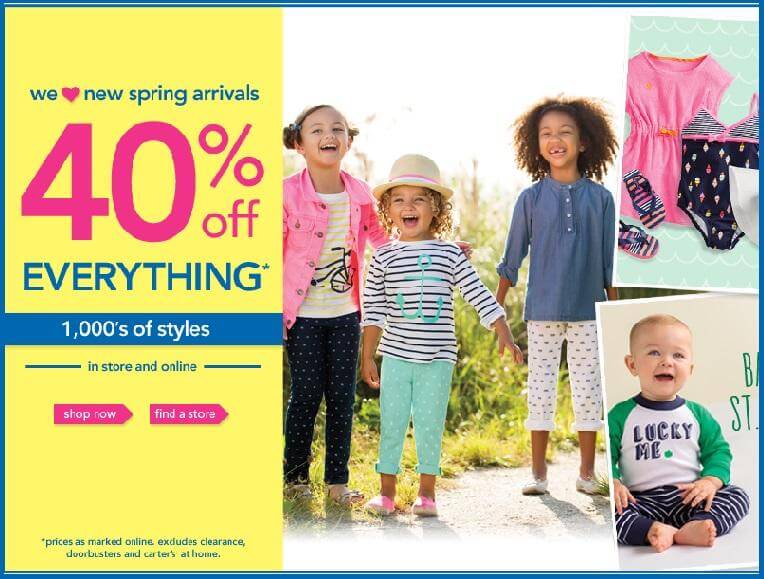 If you haven't already heard, we've been working really hard at curating deals for More, Ladies Home Journal, Parents Goodyblog and Woman's Day. Make sure you head on over to their respective sites to see all the spectacular deals that we've handpicked for their readers.
And this week, we have the best of the best clothing offers around the web for you. Retailers are trying to push their inventory out to make room for new arrivals and to make things more interesting, they're slashing prices on new inventory. A big win for us all around!
With additional savings up to 50% on top of already low sale prices, this is your week to go on a shopping splurge:
Deal #1: Time to stock up on my daughter's basics at Carter's because they are offering 40% off the entire purchase. Expires 01/30/2014.
Deal #2: The weather may be cold, but that doesn't mean you can't be styling at work. Right now, save 50% off dresses, skirts and more at The Limited Stores. Expires Today!
Deal #3: Express has been having some incredible sales lately, but to top it off, they are offering an extra 50% off their clearance sale items. Expires Today!
Deal #4: I'm a sucker for designer jeans and right now DL1961 Women is offering an extra 30% savings on sale items, plus free shipping. Expires 02/12/2014.
Deal #5: Last but not least, you can save 40% off your entire purchase at Calvin Klein. Expires 01/30/2014.
Starting today, send in a snapshot of your receipt or a picture of your item for a deal that you used from our "This week in deals" to editor@savings.com and we may include your image in an upcoming post.
This post contains affiliate links
(Source: Savings.com)