Travel Spotlight: Tips to Scoring a Hotel Deal in NYC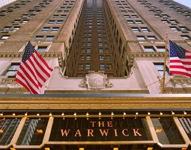 If you or anyone you know has been to the Big Apple, you know how expensive hotel rooms can be! Generally, hotel rooms in New York City are two to three times more expensive than anywhere else. But you don't have to pay those ridiculous prices!
Here are some ways to save on lodging in NYC. Before you begin to look up hotel pricing, first decide on an area where you'd like to stay. Whether it be midtown or the Times Square area, this will ease your searches on a few of my favorite websites.
First of all, head over to Hotwire.com and find the lowest rate for a hotel in the area you'd like to stay in. They won't tell you which hotel, but they will give you a nightly rate. Be careful when you're choosing the star rating of the hotel! They may show a three-star hotel for only $129 a night, but that is more likely to be a two-star hotel.
While Hotwire has good rates on unknown hotels, Priceline.com lets you name your own price. You can possibly get a better deal there. To get started, head over to Priceline.com and click on the hotels tab. Fill out your trip details and click "Search Now." Click on the "Name Your Own Price" button in the sidebar, then select the area you want to stay in and choose a hotel rating. I recommend choosing a three-star or more. Enter the lowest rate you found on Hotwire (or lower), and hopefully they will accept your price! If not, you can alter your search or try again in 24 hours.
We have personally used this method and saved 50% on a nice hotel room! Half off is a very good deal for New York City. As long as you're flexible about what hotel you stay at, you can grab a nice room for a great price. For more Priceline tips, check out this Blog & Save post from a while back…
Have fun in the Big Apple! Leave us a comment and let us know what you saved.
Newly-minted DealPro Mitchell is a junior in high school, and is the author of the blog Frugal Finders. Frugal Finders is all about helping you get the most for your money by couponing effectively.