Last Updated: March 31, 2021
Have you noticed how certain types of products are on sale during different months? Or that certain types of savings and coupons arrive at your door in different forms? If you haven't noticed, that's because the companies are doing their jobs well. The savings types and timings you receive are highly strategized and calculated to help each company thrive.
Previous research indicates that 92 percent of Americans use coupons, and most receive an average of three to ten coupons in their email every single day. They're proven to be effective, but there's a competition among the various offers. So how are businesses competing in the saturated coupon space? To truly understand how coupon strategies operate, we downloaded thousands of deal and coupon types, along with their timing, their industry, and their yields on sales. What we ultimately found were the ways certain industries push, time, and shape their coupon strategies.
Key Findings
Percentage-off deals are the most commonly used deal-type. They're also the most lucrative overall, generating around 73 percent of total sales.
That said, not all product categories benefit similarly from percentage off deals. Over 50 percent of product sales in the home, food and beverage, and baby product categories are generated by other deal types.
Discount Types
Looking at the vast data set as one large whole, our analysis first breaks down the most common deal and discount types we saw. We then look at the percentage of sales these particular coupon types generate for business.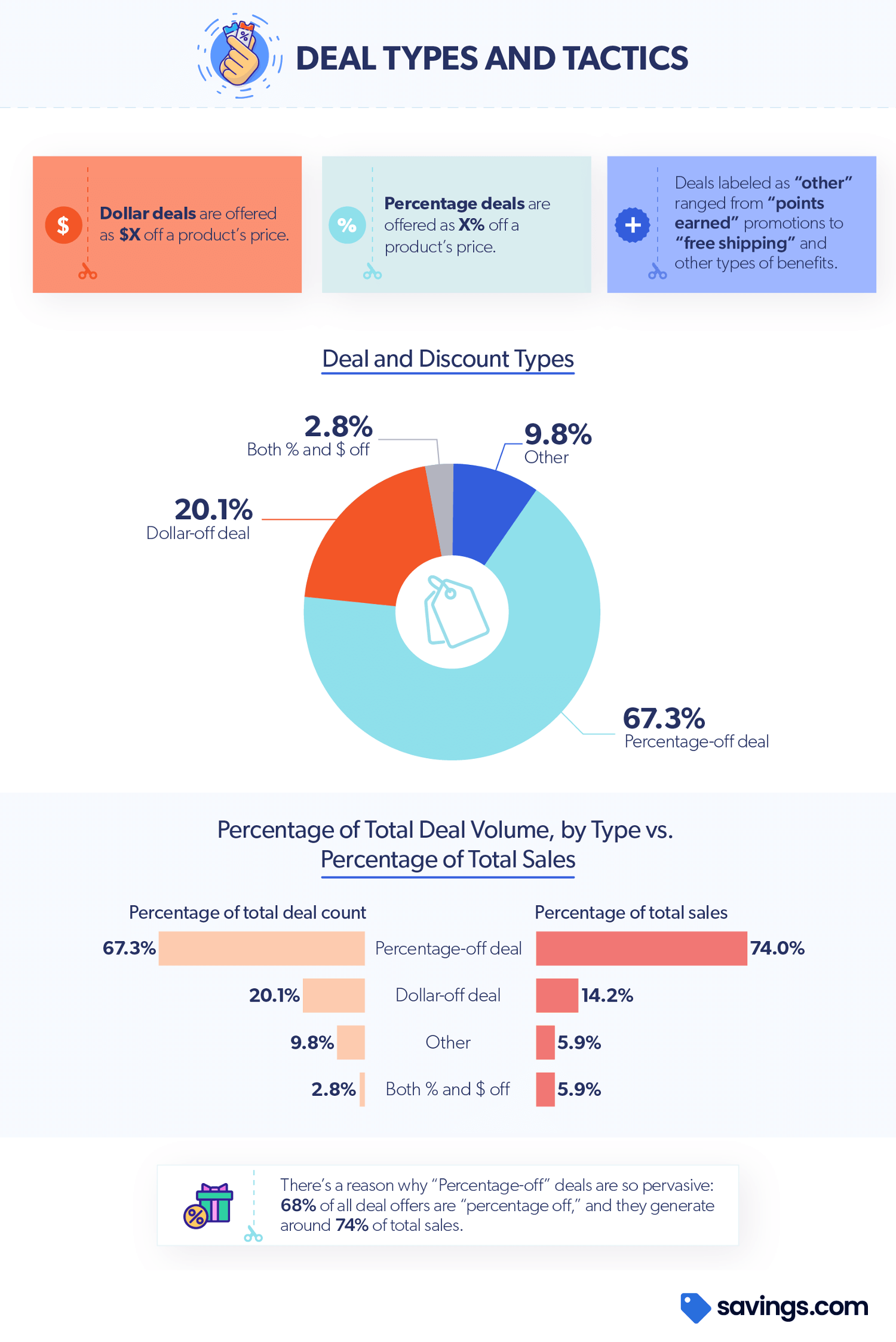 It's important for brands to establish other deal types for several reasons. Financial experts summarize these reasons as follows:
To get consumers' attention
To advertise a new product
To buy loyalty
To get repeat business
To target their marketing efforts
To increase the bottom line
Not all of these goals can be accomplished by only offering "percentage-off" coupons.
Moreover, psychological research has shown that habitual coupon users prefer to buy products with a coupon even if it means spending more money. The excitement and power that comes from getting a discount override actual financial sense. This influence may well lend itself better to other types of coupons, like "2X points," more so than any true discount on the coupon.
There also may be a benefit to the variety itself. Research has found that 84 percent of shoppers say coupons influence their shopping choices. Another 86 percent say coupons have influenced them to try a new product. With this many people scanning for coupons and comparing offers, several companies with the same product may have a hard time standing out, even with a discount. By switching the type of discount they're offering, companies may just separate themselves from the pack.
Categorical Tactics
Our study wraps up with a deeper industry breakdown. We wanted to look at the coupon types most commonly offered within each industry, as well as how these impact that industry's sales numbers.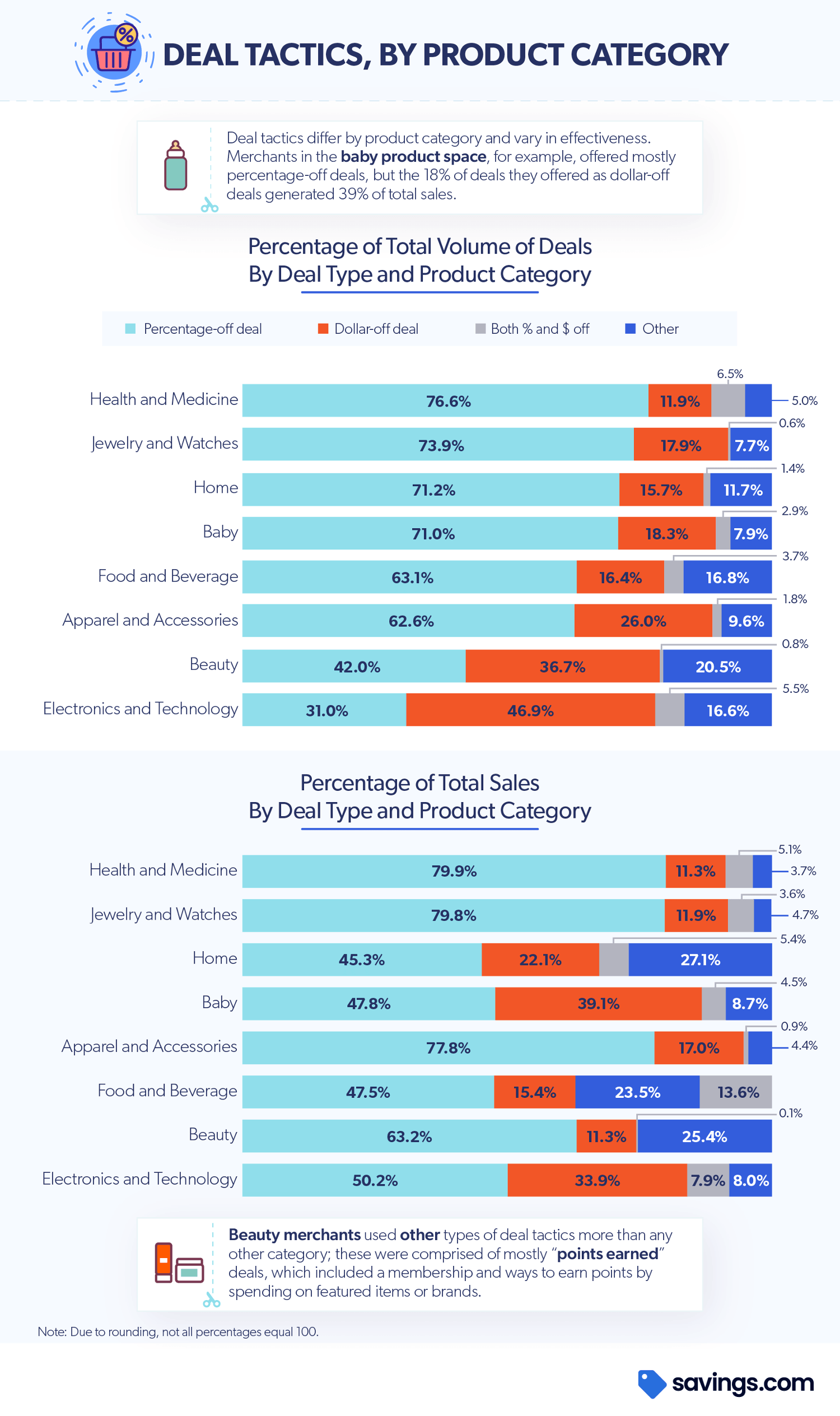 The beauty industry presented another anomaly. First, we noticed that beauty brands are diving into the "other" category of deals. Though it constituted only 20 percent of their deals, this nondescript category generated a quarter of all their sales. On the other hand, the beauty industry's "dollar-off deals" had very low ROI, comparatively. This may be happening for several reasons.
For one, many beauty products already cost as little as a few dollars, so a set amount discounted may not feel very substantial. When we looked further into their "other" categories, we saw heavy use of membership benefits. Membership rewards, which enhance customer loyalty, are extremely important to the beauty industry for several reasons:
Cosmetics are considered perishables, and customers need to consume and replace frequently.
There's a very high markup on makeup, so the industry is better poised to give back.
Customers are loyal to makeup brands, not the "middleman," so middleman retailers may have to push harder to capture these customers, while brands that have already captured a loyal follower need to keep them there.
Electronics and tech actually offered very few percentage-off discounts, compared to other industries. This is likely because of the hefty price tag on many electronics, with even a small percentage off adding up to a substantial discount. To avoid offering too steep of discounts, the tech industry is evidently relying on other couponing techniques, like dollar-off deals and other types of creative discounts. As the graph above starkly reveals, one coupon strategy does not apply similarly across all industries, and there are usually good reasons why.
Couponing Wisely
As evidence shows, couponing strategies are not the same across industries or time of year. For electronics, you'll want to wait until you can see a percentage-off discount in November, while the beauty industry may entice its customers in early March with loyalty-related rewards. Even medicine is difficult to time your discounts correctly, as their most popular times coincide with their price hikes.
Ultimately, information such as this is your best weapon in the battle to score good deals. Comprehensive data analyzed like this is a great start. If you're looking to take advantage of this information, know your industry tactics and find coupons within certain seasons in order to develop the best cost-saving strategy.
Our Data
We used internal data from 2019 through 2020 provided by Savings.com to explore the way merchants employ deals and discounts as well as the types of deals and discounts they offer. We grouped merchants into eight categories in order to broaden sample sizes for analysis. We used text analysis on each deal's copy to determine if they were "percentage-off" deals or "dollar-off" deals and categorized miscellaneous deals into "other." Only 2.8% of all deals contained both a "percentage-off" and "dollar-off" promotion.