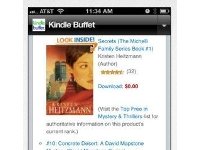 Find the best Kindle freebies at Kindle Buffet
As most Kindle owners know, there are lots of ways to
find free e-books to read
.
For example, there's
eBookFling
, which lets you trade lend-able books with other readers and receive loans in return. And
eReaderIQ
helps you locate free and newly discounted books in Amazon's Kindle Store.
And don't forget the Kindle Lending Library, which lets you check out one free book per month as part of your Amazon Prime subscription.
Ah, but here's the rub: Out of all those freebies, how do separate the wheat from the chaff? How can you find the titles that are really worth reading?
Head to
Kindle Buffet
. Created by writer/publisher Steve Weber, the site lists a handful of hand-picked new freebies, all of them carefully vetted by Weber, who says he spends about six hours a day on the site.
Weber also interviews and profiles the author of his top pick, which is a great way to learn more about the book and the person who penned it.
He does not, however, accept book nominations. "Publication is based solely on my critique of the book, my editorial judgement," Weber says. "In my opinion, a lot of my competitors are really fuzzy on the difference between paid promotions and real recommendations. I accept third party ads, and they are labeled as advertisements."
All I know is, whenever I'm faced with hundreds or even thousands of free books, I find it almost impossible to pick one. At Kindle Buffet, it feels like someone took the time to cull the good stuff and say, "Hey, here's one you'll probably like."
Another nice perk: There's a Kindle Buffet app (for
Android
and
iOS
). The interface leaves something to be desired, but it's a nice way to stock your mobile device with free stuff while you're on the go.
Have you found another good site that recommends Kindle freebies? Tell me about it in the comments!
Veteran technology writer Rick Broida is the author of numerous books, blogs, and features. He lends his money-saving expertise to CNET and Savings.com, and also writes for PC World and Wired.
(Source:
Savings.com
)